InTek offers both COFC (container on flatcar) and TOFC (trailer on flatcar) temp controlled services, although COFC intermodal is driving a revolution in the market making it far more viable of an option for shippers to access 53' reefer intermodal options.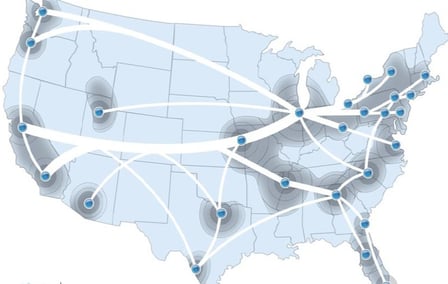 Not only is COFC service more cost effective, but shippers have a better opportunity to tap into the temp controlled intermodal capacity because this equipment is in place to serve temp controlled shippers.
The investment being made outside of the equipment itself (meaning the facilities, technology and people) are the other components that are moving temp controlled OTR off the road and onto the rail.
The technology is there to protect the product, while also gaining the trust of shippers. This technology gives refrigerated intermodal containers 24/7 satellite tracking; internal temperature monitoring; and the ability to remotely change the temperature of the containers in transit.
Reefer intermodal containers have roughly two to three times the capacity of the tanks on reefer units typically found on trucks, so if there were a delay the product is well protected.
Temp-Controlled COFC Container Specs:
Interior of temp-controlled intermodal COFC container
Loadable Interior Dimensions
Length: 605.00 inches
Width: 97.25 inches
Height: 97.50 inches (chute clearance height)
Load Weight Limit
42,500 lbs
Pallet Spaces (40"L X 48"W)
30 single-stacked or 60 double-stacked
Pallet Spaces (48"L X 48"W)
24 single-stacked or 48 double-stacked
InTek Has Both Slim-Line and Traditional Reefer Intermodal Freight Container Capacity
InTek also offers over-the-road (OTR) temp-controlled transportation capacity.
Learn more about temperature-controlled shipping in video form:
For more about intermodal, a couple of blogs offer additional insight:
The Cost of Intermodal Transportation Services (Rates, Fees & Variables)
11 Differences Between Intermodal and Truckload Every Shipper Should Know.