Intermodal Weight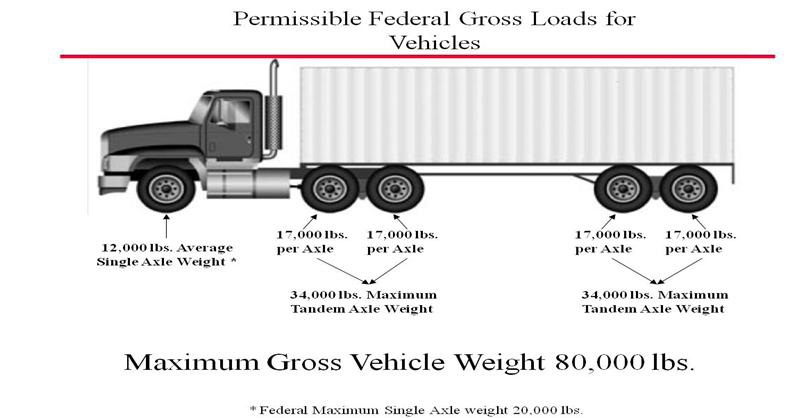 Weight is the most common issue for new intermodal users, which is often driven by the misconception intermodal transportation is just like truckload.
Intermodal is very similar to truckload, but we like to say it is truckload-like, not exactly like truckload.
The Federal Gross Vehicle Weight Limit of 80,000 lbs. for tractor/chassis/container is the same for both intermodal and truckload.
The difference lies in the 53' container-on-flat-car (COFC) domestic intermodal container which is roughly 2,500 lbs. heavier than a standard dry van. This translates into the recommended maximum bill of lading weight at 42,500 lbs. for an intermodal load versus the 45,000 lbs. shippers are accustomed to for a truckload shipment.
Learn more about gross weight, the costs associated with a non-compliant load and weight distribution in our extensive ebook: Understanding Intermodal Weight & Damage Prevention
Damage Prevention
Since intermodal is truckload-like, there are preparations with intermodal shipping that must be made to ensure a safe, damage-free move.
Unlike truckload shipments, intermodal loads experience harmonic vibrations that can move the load vertically, longitudinally, and laterally. The vibration is not intense, but it is consistent.

Once the intermodal container is loaded on the train and the train begins to move, the harmonic vibration will begin to move unsecured freight to any open space in the container.

The preventative measure you should take against harmonic vibrations on an intermodal load is proper blocking and bracing. Often times, shippers believe that the resources needed will offset the transportation savings or that blocking and bracing is just "too hard." However, remember that your main goal is to restrain the movement of freight to open free spaces within the intermodal container. In many cases, blocking and bracing is nothing more than securing a couple of 2 x 4s with 16d nails to the floor of the intermodal container or staggering the load differently inside the container.
Learn more about harmonic vibrations, blocking-and-bracing and the costs associated with reworking a shipment in our ebook: Understanding Intermodal Weight & Damage Prevention.
If interested in learning more about intermodal, additional articles we would recommend include: The Complete Guide to Intermodal Transportation, The Cost of Intermodal Transportation Services (Rates, Fees & Variables) and 11 Differences Between Intermodal and Truckload Every Shipper Should Know.